Pinterest is quietly becoming quite the social media juggernaut. Since its founding in 2010, over 70 million users worldwide have logged on to share their recipes, dream homes and personal goals.
What's even more astounding is the demographic breakdown. Over 80% of Pinterest users are female, with 77% falling within the highly coveted 18-54 age group. Not only does that eclipse Facebook in terms of reaching women-but it edges out Twitter as well.
With such a sizeable share of the social media landscape, brands can simply no longer afford to ignore Pinterest as a viable way to reach customers. In fact, I definitely see the application as one of the serious threats to Facebook's continued dominance with advertisers in the very near future.
But with any tool, success is dependent on understanding how to use it effectively. So if you are ready to take the Pinterest plunge, here are some tips on how to get started.
Understand the Basics
Pinterest is a social media network designed around displaying engaging visual content.  A Pin is an online image or video that people add to a variety of virtual boards organized by interest. These virtual boards can be shared with others, allowing for the discovery of potentially new products and services.
Therefore, the most successful brands on Pinterest are ones that make their merchandise information easiest to share. You can do this by installing a "Pin it button" on your webpage-anywhere there is content that you would like to encourage customers to use.  You can obtain this widget by creating an account and obtaining the link from their business resource pages.
Plan Your Pinning Strategy.
Pinterest has created a number of effect tools to help you reach customers. Most prominent is their Pinterest Analytics feature, which allows you to see what people like from your profile and what they save from your website. By tracking this valuable information, you can curate brand boards that are tailored to your clients' biggest needs and wants.   You can also follow boards of other companies within your industry to be able to see what works.
Use your Board to Motivate Both You and Your Customers.
Many pinners use the application as a way to store and share aspirational content. So it's imperative that your boards cover more than just your goods alone. In fact, many businesses use Pinterest to reinforce core company values through inspirational quotes and imagery.
Don't be afraid to think outside the branding box. Pinterest serves as a great resource to showcase your creativity and company culture.
Fresh Content Matters
Customer engagement is an essential part of growing your influence on Pinterest. So it's important to pin at least once a day to ensure your followers get fresh content.  Remember, you can give links to both video and still images-so it's a good idea to provide a mix of both on your boards.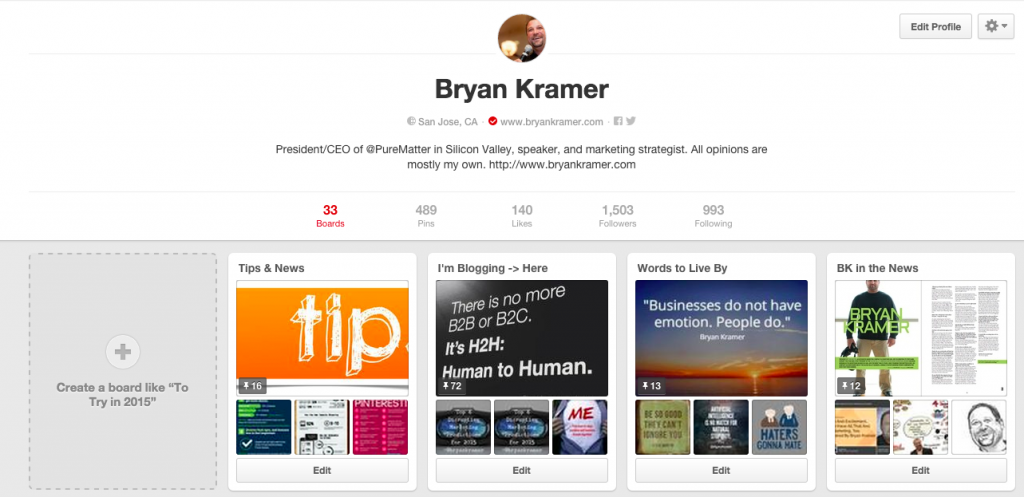 Make sure that the descriptions offer context for the item being displayed. And whenever possible, make sure that the image links back to an updated page with all pertinent product information.
Companies can also use Rich Pins that include extra information right on the Pin itself.  These Pins cover everything from pricing information to directions to your business. It's a great way to build product knowledge for your consumers. 
Recognize Your Biggest Fans
The best way to grow your base is to become an active pinner yourself. Like and comment on other boards that relate to your industry.  You can also create group boards to showcase your most loyal customers.
The great news? Once you grown your following, you can cross-promote your Pinterest boards featuring your customer's product selections directly on your site.
Key Takeaway:  Pinterest, which currently boasts over 70 million users worldwide, is an effective way to display your brand's products, content and services. Businesses looking to be successful must understand the demographics (80% women, 77% 18-54 year olds) to curate a solid message through what is largely a visual platform. Engage with your customers through comments and fresh content to secure brand loyalty.
This is part of the social fundamentals series, enjoy the previous articles in this series below:
The Top Six Fundamentals of Using Twitter
The Five Fundamentals to Using LinkedIn