As I mentioned last week, I've been through quite the transformation these past years. I have had an incredible 20 years running one of the largest marketing agencies in Silicon Valley with my business and life partner, Courtney Smith (which I continue to do). Both of my books hit top best seller lists, which contributed to my speaking journey all over the world. One of the highlights for me was getting to the TED stage.
Yet, there was something missing… and it was staring me in the face. I wanted to connect more with people and teach. At heart, I'm a teacher. In fact, I come from a long line of teachers. Both my grandma and my parents have been teachers, and I suppose you could say it's a part of who I am.
And now, I'm ready to lay it all on the line. My line, which in my career, has definitely pointed me up. And down. Sideways. In circles. And at times, in opposite directions. Sometimes I crossed my line, and I most certainly pay a lot of attention to my bottom line.
When it got tangled, I'd have to straighten it out. Over the years, I got really good at doing this for myself and others, and noticed that the less tangled my line was, the more my focus became clear, and life changed in the direction I wanted.
My line has led me here. It's pointed in the direction of teaching others what I know best – how to better brand, market and sell you and your business.
I am owning my line.
So, while Courtney and I still proudly parent our first baby, PureMatter, into continued success, it is with as much excitement as I can push through this monitor to you right now, that we are opening the doors to our new online membership community called Own Your Line.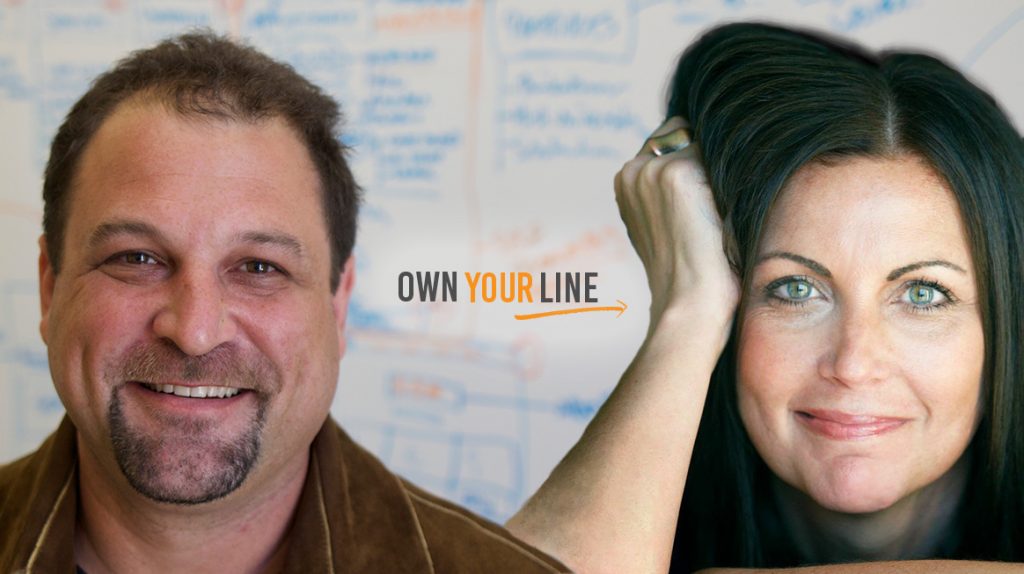 Introducing Own Your Line.
The membership community made for a small business, a solo entrepreneur, intrapreneur, or are in sales– this is for you. It's our way of sharing at scale what we've learned in our marketing agency over the last 20 years.
Consider this community your educational lifeline to growth.
If you've prodded your aspirations, analyzed your line's trajectory and think that you could benefit from some fresh ideas, perspectives and learning, here's what we're offering in Own Your Line:
Smart agency experience and processes, without the agency price tag
A community of talented professionals to be your external sounding board
Membership in the "Scribe Tribe", our awesome community members who are all here to help, support and write their own story about their line.
Access to new methods and strategies to reach new audiences.
Better understanding of the critical connection between Brand, Marketing, and Sales
Tools, resources, worksheets, videos and more in the "Swipe File"
And we're offering you all of this for a yearly price of less than what our agency would have to charge you for just one meeting – for the equivalent of 4 billable agency hours, you can gain access to an entire year of continuing learning.
So what do you say?
Let's lay it on the line and help you to build your brand from scratch and illustrate the best things about it and learn how to communicate them.
Let's color outside the lines and learn how to effectively harness the power of social channels and marketing tools to maximize your potential reach.
Let's cross the finishing line and show you how to generate awesome leads that lead to even more conversion and engagement.
Your membership in the Own Your Line Community includes:
2x Live Online Workshops a month
1x Monthly Live "Hot Seat" Coaching Call with myself + Courtney (where we feature 2-3 of our members and focus on their business)
1x Monthly Live "Mastermind" Call (where our Scribe Tribe can share ideas and questions with each other)
1x Monthly Q&A Video (where we answer YOUR questions)
"Own Your Line" Scribe Tribe Private Facebook Group access
Swipe File Access: Tutorial Videos, Tools, Worksheets + Resources
Surprise Bonus Material
Special Founding Members Onboarding Call
After enrolling in the Own Your Line Community, you will gain immediate access to not just others wanting to learn, grow and support, but also tools and resources that will help you or your business up your marketing game. Courtney and I are taking our years of owning a marketing agency, and teaching you, using the same models and processes we've used on some of the biggest global brands!
We are putting it all on the line, having literally scoured our agency coffers for everything that could be useful for the pioneers and mavericks like you trying so hard to fit the brand, marketing, and sales pieces together.
Whether you're stuck trying to grow yourself or need to learn how to better brand, market or sell solutions in your business, this is going to be absolutely GREAT for you. Click here to enroll in the Own Your Line.
And remember this is a Limited time offer that ends Tuesday, May 16 at Midnight.
Get ready for some world-class, experience that could be the kick-start your business needs. Let us help you to be top of the line, grow your bottom line and ultimately cross the finish line.
Are you ready to own your line? Then see you inside!