Trial and error can beset any business organization especially when you are just starting out. But learning the most important principles to effective entrepreneurship can save you a lot of wasted time and effort. Christine Clifton's "You Don't Have to Shout to Stand Out", brings to the table the very foundational elements that she shares with service entrepreneurs.
She teaches the messaging approaches that unearths your authenticity in communicating your business purpose and how to properly position yourself using the micro-marketing approach. It's all about connecting with people in the most humanistic ways because that is when you can truly relate and eventually produce the impact or results that you desire.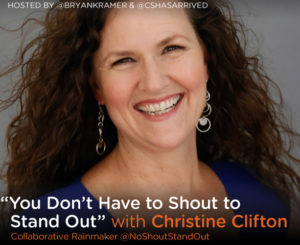 It emphasizes the use of your listening, conversion, and people skills, including the ability to deal with various personality types.
Christine Clifton is a woman of powerful personality, a possibilities thinker, and has a strong belief in the value of the individual, social connectivity, and of being heard. She is also an MBA holder, professional coach, mentor, and author of best-selling book, You Don't Have to Shout to Stand Out. She is founder of Mindful Business Matters, with the purpose of reviving human-to-human interactions in the midst of today's highly technological workplace environment. Consequently, she is a passionate rainmaker especially in making productive, people-oriented individuals out of entrepreneurs, collaborators, and firms as a whole.
In this Episode
The story behind the making of Christine's book, You Don't Have to Shout to Stand Out
How to maximize the 4 elements of standing out as a service entrepreneur
How micro-messaging and sharing your purpose authentically create more impact for your market as messaging approaches
How to develop the agility in communicating with your audience
How to be a "temporary chameleon" and get them to listen while in turn, listening to their "energy output"
How to use the A.S.K. (acknowledge, state, and know) model to make conversations flow and make it run deep
How to generate Return On Time Investment (ROTI)
How to heighten your conversation rates in terms of sales or business
How to "network" when you're not into networking but feel the need to
How to extend the use of automated conversation tools beyond efficiency and establish more connectedness
Quotes From this Episode
"If you are really true to yourself and are able to share what you stand for, then people are gonna stand up and say wait, what did I just hear?" – Christine Clifton
"Micro-messaging is all about knowing your audience well enough to position your "what" in a way that matters to them." – Christine Clifton
"Literally, we're rewiring our brain for shorter attention span so we have to speak in a way that people listen much more quickly." – Christine Clifton
"The more kindred spirits you have…the higher the conversion rate is gonna be, whatever you're measuring." – Christine Clifton
[Tweet "The more kindred spirits you have, the higher the conversion rate @noshoutstandout"]
"This conversion factor is all about getting to the root of the pain and serving up the one component of what you offer as the solution." – Christine Clifton
"If you don't address that initial pain or that initial want upfront, you might lose them." – Christine Clifton
"Networking is not a place that you go, it's something that you do." – Christine Clifton
[Tweet "Networking is not a place that you go, it's something that you do. @noshoutstandout"]
"Networking simply means to connect resources among a community…it doesn't mean selling my stuff ." – Christine Clifton
Resources
Christine Clifton
Facebook: https://www.facebook.com/christine.clifton
LinkedIn: Christine Clifton, linkedin.com/in/cclifton
Twitter: @NoShoutStandOut
Book:
You don't have to shout to Stand Out: Networking Conversations that Inspire Interest and Create Connections (Techniques from a quiet entrepreneur)