Flipboard is your new best friend. Or it should be anyway. It's a savvy tool that helps you to collect all the cool links you find when you're rummaging around the web and keep them all in one place. You can come back to Flipboard at any time and hey presto; you've got lots of information saved in an easy-to-use interface. And, wait for it, it's free.
Now if you're like me, this app is a lifesaver and I've used it for about 6 years. I'm always finding links, pictures and articles that I want to look at but I don't always have the time. But it's also a fantastic curation tool.
The internet is a treasure trove, but you can't bathe in all that treasure all at once. So, Flipboard is ace for content collection and discovery; it lets you connect with content you want to get smart with, helps you navigate through it and truly immerse yourself in the learning process.
[Tweet "The internet is a treasure trove, but you can't bathe in all that treasure all at once."]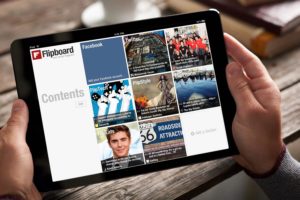 Let's look at ways you can use it:
Keep up with your Industry
Flipboard's great for personal and corporate brand building. You can show you have your finger on the pulse of pressing issues in your industry area and prove a commitment to growing your knowledge base.
You can invite the rest of your company to collaborate and share in your own private magazine, where they can add stories and leave comments. Different teams can input with issues they're finding important right now and join a wider internal conversation where everyone can learn from each other.
It's a real-time, dynamic exercise.
Use Flipboard to discuss ideas with Clients
When your brand is discussing concepts with clients and you're at the idea generation stage, where everything can be a bit messy and up in the air – Flipboard can help to bring clarity to the table. You can ask your clients to collect stories and content that represents the direction they'd like to go in or the issues that they're facing at the moment.
You can quickly and clearly use this research to get in your client's head and map out some ideas.
It's possible to help clients find their brand voice and nail down their narrative.
Back-up your Choices
If there's a particular direction you want your brand to head in, the first thing you should do is research, research, research. What are thought leaders saying or brands with a lot of authority in your area? Can you find any engaging or persuasive stats to back up your assertions? Compile boards that give evidence for advantages and disadvantages to weigh up options.
Curation is a point of expression
Being able to create an almost 'online resume' lets you communicate messages about yourself or your brand and who you really are. A digital collection lets you promote certain attributes and ideas that you want to associate yourself with, so people create a more complex, clear picture of who you are.
You can also find out what makes other people tick.
Convey your Brand's Company Culture
Your brand can create photo-albums and document events that help to show the cohesion you have within your team. For people that are looking to join your company, if they're able to view an inclusive, supportive working environment, they might be more inclined to join your team.
Attracting the best talent is important and Flipboard allows you to illustrate your ethos and values.
Connect to people that share your passions
By collating and engaging with stories that matter to you, Flipboard will start to curate and offer content that they think you'll find interesting. Your content will be more personalized. You'll also be able to see who else shares the same interests, which creates space for you to connect, interact and network with other people who enjoy similar content. You can learn from each other and take your conversations in diverse, beneficial directions.
Competitor Research
Have a peek at what your competitors are saying and what content they're publishing. You'll be able to find trends or changes in their strategy. Try and find gaps in the market and find what your competitors aren't saying as well – you can try to answer questions and provide solutions for customers that other competitors aren't giving.
Digital testimonials
Create pages to share all of your content, research or recent successes, but most importantly – keep your content updated. This will make it easier for people to see what's going on with your brand with the help of press coverage, your own content or online reviews.
Flipboard can turn into an online testimonials space for your brand if you repurpose great reviews into visual content. You can show this to potential clients.
Create a free, digital magazine
Flipboard gives you the power to publish in a way that traditional magazines do. You can essentially create a front-cover and a digital magazine that can introduce your concepts, services and products to customers.
Think of it like an online, interactive newsletter and you can link to it from other social channels. Instead of sending out an email with loads of separate links to what your brand's been up to, you can send one link to your Flipboard which will house all the separate links in one place.
Find vetted, edited content
Flipboard vets content, to prevent pieces that aim to intentionally deceive a reader being circulated and part of your curated content.  They use algorithms to decipher which content is creating a buzz and for what reason. They also have an editorial team to help pick out insightful content.
In the current media landscape, you want to feel sure that what you're sharing are strong, authentic pieces from trustworthy sources.
Flipboard is the way forward
Flipboard offers a great way to use creative ideas for your brand's projects and overall content marketing strategy. It helps you to join up the dots and forge connections with other thought leaders and make smarter decisions.