Freedom From Fear
Standing in front of people is an intimidating thought. Whether it's two or two-hundred, public speaking can strike fear into the heart of even the boldest extrovert.
Bryan is one of the world's foremost leaders in the art and science of sharing, and has been credited with instigating the #H2H human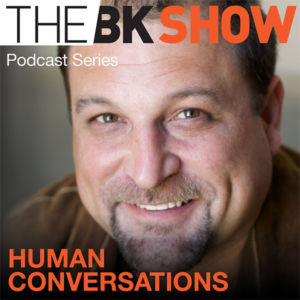 business movement in marketing and social. From keynotes to hosting, to interviewer to workshop trainer, he is one of the most versatile speakers out there.
Although he comes off as cool, calm, and collected onstage, Bryan has experienced and overcome his own bout of stage fright. When he emerged from this tough time with a fear of speaking, he had a newfound appreciation for public speaking and unique insight on getting over this fear and getting on stage.
Listen in as Bryan shares his tips for and tricks to bypassing fear and finding success on stage.
In This Episode
How understanding the source of your fear leads to self-realization
Why previous success as public speaker doesn't mean you'll never experience that anxiety
How the wrong reactions from your audience can lead to growth as a speaker
Why public speaking means you are starting with an A+
Quotes From This Episode
"I had to take everything that I was looking at and reengineer how to get in front of people." —@bryankramer
[Tweet ""You have to start with what you truly believe in and then find a place to speak about it." —@bryankramer"]
"Organization can make or break how you feel when you get in front of people." —@bryankramer
"Everyone is there to support you." —@bryankramer
[Tweet ""The best thing that you can do is give them your 'you'." —@bryankramer"]
"The audience already wants you to succeed." —@bryankramer
Resources