The Secret to Becoming an Expert
Dorie Clark is a recognized branding expert, marketing strategy consultant, professional speaker, and frequent contributor to the Harvard Business Review.
Described by the New York Times as an "expert at self-reinvention and helping others make changes in their lives," Dorie consults and speaks for a diverse range of clients, including Google, the World Bank, Microsoft, Morgan Stanley, the Ford Foundation, the Bill & Melinda Gates Foundation, and Yale University.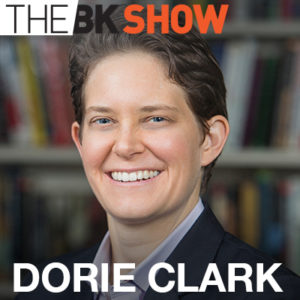 A former presidential campaign spokeswoman, she is an adjunct professor of business administration at Duke University's Fuqua School of Business and a Visiting Professor for IE Business School in Madrid, Spain. She has guest lectured at universities including Harvard Business School, the Harvard Kennedy School, Stanford University's Graduate School of Business, the University of Pennsylvania's Wharton School of Business, the University of California-Berkeley's Haas School of Business, Georgetown, NYU, the MIT Sloan School of Management, and the University of Michigan.
A former New England Press Association award-winning journalist, Clark directed the environmental documentary film The Work of 1000, and is also a Grammy nominated jazz producer.
Listen in as we discuss the importance of content creation, social proof, and your human-to-human network in becoming a recognized expert.
In This Episode
Why a successful business plan means signing up for improv classes
How achieving professional success leads to stagnation
The three key components to becoming a recognized expert
Why getting published means doing your homework before your pitch
Quotes From This Episode
"Being able to get up on stage, roll with the punches, and read people is one of the best skills to have in business." —@dorieclark
[Tweet ""Once you get good at something, there is a huge incentive for you to keep doing it." —@dorieclark"]
"It's about quickly making associations and quickly parsing to the most essential element." —@dorieclark
"One of the key components of innovation is multi-disciplinarity, bringing in different perspectives, and combining them."
[Tweet ""It's very hard to innovate if all you have is one perspective." —@dorieclark"]
"No one will be able to tell you're an expert if you do not manifest your knowledge in some fashion." —@dorieclark
"You have to give them a reason to pay attention to you." —@dorieclark
[Tweet ""You don't want to be the best kept secret." —@dorieclark"]
"It's taking your strength and then expanding it to help you in different areas." —@dorieclark
"Too many people push the sale way too fast." —@dorieclark
H2H Lightning Round
What is holding you back from even greater success? A tendency to micromanage.
Who do you look to the most for advice? My good friend Jenny Blake.
What business book would you recommend? My aforementioned good friend's book, PIVOT: The Only Move That Matters Is Your Next One.
Share one of your best personal productivity habit? I travel a lot so I focus my plane-time for writing.
What is a favorite app or resource of yours? The calendar app called FantastiCal.
If you had to wake up tomorrow morning knowing what you know now but you can't take the money with you, just the knowledge, what would you do to build yourself back up? If you can interview other people, that is such a great way of building karma with them, reconnecting with old colleagues, meeting new people, and expanding your network. Through that, you can turn a business contact into a friend which can help take your profession to the next level. Your social network is really key to everything.
Resources