The digital age can be a very volatile world to live in. To survive and excel as an organization, there is a need to understand the culture and the DNA that is developing around it. Active human connection must be established with all individuals including employees, customers, and the media as a whole in order to stay relevant and sustainable as a business entity. The key is to get back to the basics of empathy, ethics, emotional intelligence, respect for individuality, and critical thinking in a "digital sense."
Travis Wright is a marketing technologist and co-founder of CCP Digital, an ad agency based in Kansas City. He is also a writer for Inc. Magazine and does podcasts with VentureBeat via the VB Engage podcasts. Recently, he co-authored the book, Digital Sense with Chris J. Snook.
Chris J. Snook is a passionate, award-winning entrepreneur who does Inc. Magazine's column called, "The Real Risk Is Doing Nothing!" He considers himself a venture catalyst as well as a brand humanizer.
In This Episode
How Travis and Chris followed the destiny of their book, "Digital Sense"
How to get your organization to powerfully work towards one goal in the midst of varying individual personality types
How to prepare for and live in a digital society where we exist in order to prevent the consequence of becoming irrelevant
How to evolve as a company and achieve sustainability in relation to providing solutions to problems that beset customers
Why empathy and critical thinking must be developed at the core of every organization
The Experience Marketing Framework done in the "Digital Sense" manner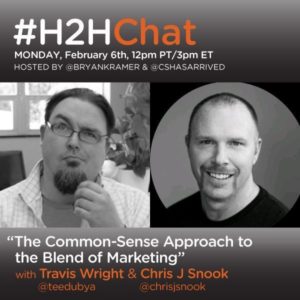 Quotes From This Episode
"At the end of the day, if you know where you're trying to get, everything else kinda has to line up." – Chris J. Snook
"It doesn't really work to hit fire with fire…and so a lot of organizations do that..and it can have major consequences on your business." – Travis Wright
"There should be ethics throughout all organizations and their sending things out through the lens of truth first and foremost…" – Travis Wright
"What we have to find a way to do is, as human beings, have empathy for each other and build organizations that somehow can have empathy for, not only our customers but employee-customers, so that we can ride through that chaos…" – Chris J. Snook
"In some cases, there's some unlearning that needs to happen for people to be able to get outside of their filter bubble and realize that, you know what…I can empathize with them…" – Travis Wright
"So as everything else gets smarter, we have to get wiser in the sense of how we feel and how we relate to people." – Chris J. Snook
"Football just gave me the lesson of just get up, get up…In business, when you get knocked down, you just kinda get up." – Chris J. Snook
"If you can interview potential customers before you even build your product, you can get your marketing plan all in place." – Travis Wright
Resources
Travis Wright
Twitter: @teedubya
Facebook, LinkedIn: Travis Wright
Website: http://traviswright.com/
Chris J. Snook
Twitter: @chrisjsnook
Facebook: Chris J Snook
LinkedIn: Chris J. Snook
Website: http://www.chrisjsnook.com/
CCP Digital
Inc magazine
http://www.inc.com/author/travis-wright
Venturebeat podcast; VB Engage
http://venturebeat.com/author/travis-wright-ccp-global/
Digital Sense book by Travis Wright and Chris J. Snook
https://www.amazon.com/Digital-Sense-Effectively-Technology-Experience/dp/1119291704