Bingeability For All
Amy Schmittauer is the Vlog Boss.
As a new media triple threat —YouTuber, Keynote Speaker and Author— she coaches people to go after what they want in life and leverage online video to make it happen. Creator of the popular YouTube series Savvy Sexy Social, her channel boasts a global community and millions of views. Now, in her first book Vlog Like a Boss: How to Kill It Online with Video Blogging, she shares her collection of strategies and tactics to help you create video that gets the attention you deserve.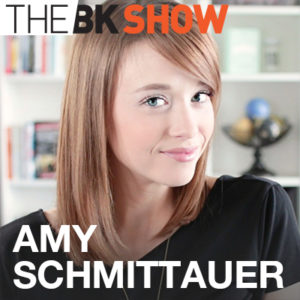 Known for her edutainment style in everything she teaches, Amy has also built a name as an internationally-acclaimed public speaker. Walking on stage from her hometown of Columbus, Ohio to many places all over the World, she has achieved high marks at some of the most influential marketing events such as Social Media Marketing World and Hubspot's Inbound.
Listen in as we discuss the power of video storytelling, what it takes to get camera ready, edit your own video, and achieve bingeability.
In This Episode
Why creating a video that impacts the many means making it for one person
How focusing on the message dissemination leads to an easier time on camera
Why achieving bingeability means being efficient, educational, and not being afraid to cut yourself
The secret analytics to unlocking the power of YouTube
Quotes From This Episode
"Video can take a lot of different forms and you can tell story in a lot of different ways." —@Schmittastic
"You can provide value in the form of what people are looking for and what information that they want but you can twist it in such a way that it's very much your personality and it makes people more hooked on you." —@Schmittastic
"You're always making a video for one person." —@Schmittastic
"Practice is the game changer for anyone on camera." —@Schmittastic
[Tweet ""If you can communicate with a person then you can communicate on video." —@Schmittastic"]
"The biggest misconception about video is that you have to be a certain type of person in order to use it and you just don't." —@Schmittastic
"Bingeability is what helped me grow the rabid audience that I have today." —@Schmittastic
[Tweet ""I wanted you to have a good time which meant I wasn't going to waste your time." —@Schmittastic"]
"It's search, it's social, and it's content all in one." —@Schmittastic
Resources