Touchpoints are the moments of interaction between your brand and a customer. Those magical moments, eh?
And points of contact can be anything from reading a review and visiting a website to seeing a brochure in a friend's house and deciding to follow-up.
Touchpoints enable potential customers to engage with a customer journey, but they're also any interaction that occurs during or after someone purchases a product/service.
These individual transactions help customers to navigate a customer journey and your brand needs to think of the bigger picture and ensure all touchpoints improve CX and end-to-end experience.
I want to look at touchpoints in a H2H context. Human touchpoints shouldn't be underestimated. If done right, the power of a human, meaningful connection can supersede all of your digital touchpoints and create a memorable customer experience.
Triggering emotional responses can build loyalty and keep your customers coming back. Let's look at some examples of businesses that have built human touchpoints into their customer strategy and what you can learn.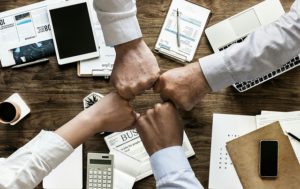 IKEA: Surprising and Delighting
The Swedish furniture makers' flat-packed products are a global hit and IKEA's ready-to-assemble range combines convenience and style. Walking around their stores is an experiential treat in itself, but IKEA are fantastic at arranging eye-catching events and human touchpoints to surprise and delight customers.
From a breakfast in bed café,  an IKEA festival full of inspiring ideas to a floating marketplace  – the human touchpoints that IKEA uses is about turning concepts on their head and coming up with innovative, forward-thinking ideas to stand apart.
IKEA's human touchpoints look at engaging with customers in unfamiliar contexts and creating really memorable experiences.  Another classic example is when they launched The Dining Club, which was a DIY pop-up restaurant in London that served Swedish food, organized workshops and had a shop for customers to buy a souvenir. Workshops taught customers to cook, about the future of food and creative cooking with a virtual reality kitchen too.
These imaginative immersive experiences create a buzz and provide a meaningful human touchpoint for everyone who physically visited.
Disney – Over managing the Magical and Mundane
Tale as old as time…ok, I promise to talk about Disney and stop singing (it's in your head now, right?). Disney is one of the most recognizable brands in the world and it's built on a foundation of pure magic. Well, magic and some pretty savvy marketing techniques too which generate a pretty impressive 70% return rate for first-time customers.
Disney thinks about its customer experience with a 'guest service compass', which means they think about Needs, Wants, Stereotypes and Emotions. They cater to these ideas and they understand that these 4 factors are dynamic. So for example, at Disney World – seeing Mickey and the gang at the start of the day can be an awe-inspiring touchpoint for a child and creates emotion, but at the end of the day when everyone's a bit tired and cranky, having a more chilled out Mickey suits the mood.
There are an incredible amount of magical human touchpoints that Disney work into the customer experience – whether that's being given a freaky, magic personalized tombstone by a ghost at Haunted Mansion or giving children that are too small for a ride of their choice a special pass to let them skip to the front on their next ride.
But over managing more 'mundane' touchpoints is worth it too. Language certified employees wear colorful pins to show guests which languages they speak. Or, parking spaces are probably one of the last customer interactions with a physical brand and it can dampen an otherwise positive day. Lots of brands might leave this, but Disney goes above and beyond to create a memorable, positive last impression on parents when they're leaving.
Parking lot attendants are on hand to find out the time you entered the park so they can direct you to your row in a timely and efficient manner instead of allowing you to walk the length and breadth of the car park, searching fruitlessly for your car with tired kids in tow.
Immersion and unexpected personalization are key pillars of Disney's customer experience and they're predominantly based on human touchpoints.
Apple: Customer Service In-Store
Here's another massive brand that uses human touchpoints to create a positive customer experience. Apple Stores are a strong signifier of Apple's commitment to customer service.
Alleviating tech oriented problems would be x38399 more frustrating on the end of a phone, so having a hub for customers to visit and find solutions is a good investment for a tech company and one that's often overlooked.
From energetic, helpful staff to innovative Genius Bars – Apple Stores are solely built with Apple users is mind. They help to play out Apple's brand identity through human touchpoints. Encouraging customers to ask questions, try out products and get products fixed gives Apple the chance to use human connection to create positive customer experiences with a digital-orientated product.
Tesla: Comfortable leads to Conversion
Here's a clue about how Tesla sees their responsibility to customers interested in their products – employees working in their studios (not called showrooms) are called Customer Experience Specialists. Pretty cool.
And being relatively new-kids-on-the-block, it's pretty impressive that their customer service in the automotive industry was measured by Group XP with a score of 113.05, ranked 26th across all industries.
Passionate tech, car and environment enthusiasts create a low pressure environment where they use to user-friendly digital tools to ask and answer customer questions, instead of hard-selling which can be synonymous with the motor industry. Being able to educate and inform customers is a valuable brand activity and employees build connections so they can promote messages about sustainability and encourage customers to think green.
A comfortable customer environment gives a good lasting impression of a brand. Other effective human touchpoints include technicians coming to the customer via mobile vans instead of having to drive to a Tesla studio and the emergence of Tesla Motor Clubs and meet-ups for those interested to chat and learn about Tesla from others.
Topshop: Make People Feel Special
Topshop, especially their flagship store on London's Oxford Street, is a good example of using human touchpoints to make customers feel special and empowered. They offer a free personal shopping experience which is an absolutely fantastic way to build rapport with a customer and give them a personalized service.
If you can incorporate this into your brand experience by giving personal product demonstrations etc then the pay-off can be well-worth the effort.
Hair and beauty services are also available in Topshop, which can empower customers and is a fun thing to do before a night out and after buying a new outfit – the customer experience is enhanced and lengthened.
There are also plenty of pop-up food brands too, which give customers more reason to hang out in the shop and make a day out of their visit. Topshop creates lots of in-store events too, partnering up with shows like Stranger Things and putting on experiential marketing events like their giant looping water slide in immersive 360.
Final Thoughts
These brands go the extra mile when it comes to creating memorable experiences for customers and building human touchpoints into the customer journeys they offer. They concentrate on the impact that meaningful connections can produce and work on using positive physical touchpoints to boost brand loyalty