Microsoft's CEO Satya Nadella claimed that "Bots are the new Apps" with "people-to-people conversations, people-to-digital assistants, people-to-bots and even digital assistants-to-bots" set to become an inventive part of the digital horizon.
The potential of chatbots in marketing and customer service strategy is solid – with greater engagement and support being two of the most pertinent advantages.
One of the chief reasons why chatbots are increasingly popular is because of app fatigue. Consumers don't want to spend more time installing new apps; they're spending more and more time on messenger platforms instead. So, a smart way for brands to connect with consumers is through these messenger apps.
Messenger apps like FB Messenger, WhatsApp, Slack, Telegram, and Kik.
(full video at the bottom)
So how do they work?
Chatbots have an interface that's built to recognize the key words a user's using and they use speech analysis and patterns to determine their next action. They're able to access a compiled database of phrases to give a pre-defined response. The sophistication of a chatbot depends on the quality of the pre-defined response and the ability of a brand to create human-like responses.
Creating a chatbot doesn't mean your brand has to become less human. You're using a tool to bring people closer to an actual conversation on the channels they are already on. Chatbots can handle simple queries, support and allow employees to engage with more emotive subjects and storytelling. Chatbots can help us to scale faster to real conversations.
Research from Sprinklr tells us that:
74% of consumers dislike contacting companies multiple times for the same reason.
66% dislike repeating exactly the same information to different employees, through multiple channels.
We've all been there. I'm sure you'll agree that these concerns can become a major annoyance…and make you want to bang your head against your desk!
Which brands use chatbots already?
Let's have a look at a few brands that are using chatbots:
Uber
If you're in a hurry and want to get somewhere fast then hailing an Uber through their Facebook Messenger-based chatbot is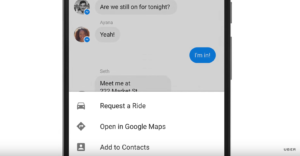 possible. You can request a cab and be on your way in no time. It'll also provide you with status updates, so you won't be kept in the dark.
You can also request an Uber from within a conversation on Facebook Messenger. Say, for example, someone shares an address with you in a message – you can then hail an Uber by clicking on the address.
Pizza Hut
Finally, an easier way to order pizza! As far as priorities go, pizza is up there along with water, warmth, and shelter. Thankfully, Pizza Hut has rolled out their own chatbot, so you can have a hot date with a Veggie Supreme before you know it. You can order through Facebook and Twitter's chatbot too.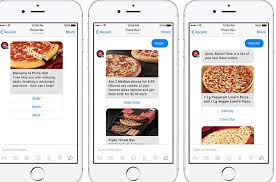 The chatbot can also connect to a user's Pizza Hut account, so it can have a look at your pizza ordering history (yikes, you ordered 3 times last week!) and make suggestions. It can also deliver personalized offers and make it super easy to re-order your favorite toppings.
Bank of America
One area where a lot of people need help in making smarter decisions is with their money and banking. Bank of America has rolled out their own chatbot to help consumers manage their money.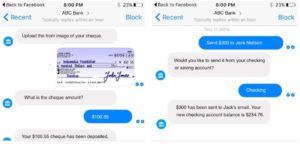 The chatbot provides new functionality, such as real-time alerts, suggestions for new saving habits and debt-busting schemes, make payments and point users towards helpful content. Streamlining the banking process and making it easier to make transactions can bring more flexibility to online banking.
Building a chatbot strategy
There are lots of reasons why integrating chatbot tech into your brand strategy can be a positive step forward for your business:
You can transform your online customer service. Chatbots can answer simple, fundamental questions and offer basic advice, so it takes the burden off your agents and they're free to answer more complex queries.
Interaction with customer service can be quick, straight-forward and 24/7.
Cross-platform customer experiences can improve, as chatbots can sit inside various different messaging apps and create a consistent tone with the same messaging.
Chatbots complement the increase in mobile customer experiences and mirror how online shopping experiences need to be optimized for mobile.
Creating conversational, engaging chatbots can communicate your brand's values and personality – encouraging people to buy or visit a physical store.
Marketing, sales, and customer service strategy continue to entwine and chatbots provide a great intersection point for all 3 – bringing them together.
Create your chatbot
After taking into account the main strategizing themes behind a fantastic chatbot – the most important aspect to keep in mind is to focus on customer needs and experience when you're building it.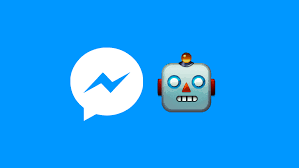 So, every function that your chatbot carries out must enhance the customer experience. What functions should you think about when creating your chatbot?
You can integrate your chatbot with your brand's app or e-commerce platform to encourage more sales.
A chatbot can provide answers to commonly asked questions and make it easier to find support through messenger apps.
Queries about your brand's app functionality can be dealt with through a chatbot.
Content can be delivered and suggested to your audiences.
Send real-time updates and engaging marketing messages.
Use your chatbots in creative marketing campaigns that offer interactive storytelling with input from a user, such as Channel 4's 'Humans' campaign.
Create interactive experiences in certain physical locations with your chatbot.
Write great, engaging copy that leads to more brand affinity and a higher conversion rate. Make a bot use similar language and phrases to your customer base.
Resources and chatbots
There are plenty of resources out there that can help you to create your first chatbot. Chatbots vary in cost and their cost is dependent on the amount of support you'll need going forward, the functionality you want, platform you're using and the amount of interactions too. The bigger the brand, the more it's going to cost. There are some more cost-effective tools out there to get you started though.
Tools that can help you to mock up a prototype of a bot and test out the language, conversational capabilities, and tone of your bot are recommended. You can do this with a tools like Botframe, Chatfuel, Botsify, and OnSequel . It creates an easy-to-use screenshot of what your chatbot will look and sound like in Facebook Messenger. You can do this for bots you're going to use in Slack with Walkie too.
Messaging design kits like Layer help chatbot makers with their messaging functionality and can build them messaging into their products. It helps to wireframe the messaging experience and improve the overall UX.
Evolving your bot over time
The distinction between good chatbots and bad chatbots is down to personality, user design and copy. You can have a low-budget chatbot, but if you're able to inject warm, funny personality-driven copy then your engagement and brand loyalty can be better than chatbots with a much bigger budget but bland copy behind the messaging.
Being able to have a chatbot that stands out and compels people to use it through the strength of its messaging is a good strategy. Updating it with language that resonates with your audience and gages a positive reaction is as useful. As you learn more about your customers you can adapt your chatbots.
Your chatbot personality will impact on the user experience of your customer.
Are bots replacing humans?
Trying to make your chatbot appear as conversational as possible is a priority. But chatbots can't truly capture the human, emotive and off-the-cuff responses that people can provide. Take a look at this great example from Sainsbury's in the UK.
For run-of-the-mill, basic queries and FAQs, chatbots can be a great way to answer common questions and leave customer service agents to focus on more pressing matters and conversations. Agents can put more time and effort into complex queries.
With functions, campaigns and interactions that need more creativity, humour and authentic personality – we should always keep our human companions on the front-line, as chatbots can't replicate the spontaneity and ingenuity of human interaction.