Divide. Share. Conquer.
Laura Roeder is focused on creating tools that give entrepreneurs like herself the ability to be totally independent.
Since 2009, she's been teaching entrepreneurs how to harness the power of social media marketing and create their own online fame at LKR Social Media. Laura was named one of the top 100 entrepreneurs under 30 in 2011, 2013 and 2014 and spoke at the White House about the value of entrepreneurship. Laura has spoken at numerous influential industry conferences including, BlogWorld, The South by Southwest Interactive Conference, Real Estate Connect, The Social Communications Summit and Blogher, discussing online marketing, social media, and personal branding.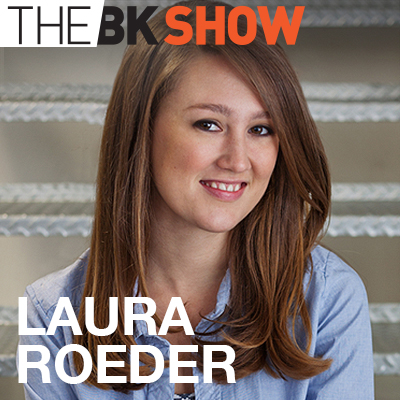 She has been seen on Fox News, Forbes.com, CNET, the Los Angeles Times, Fast Company, Mashable, Yahoo Finance and many more influential publications and media channels.
The founder of Edgar, a social media automation tool designed to prevent updates from going to waste, she now helps thousands of users manage and optimize their social media presence. Familiar with the intricacies of just about every platform, she knows how to manage your time and presence online in a way that is efficient, impactful, and keeps you true to yourself.
Listen in as we discuss a different way of sharing online.
In This Episode
Why sharing without reading means the headline is equally as important as the content
The rarity of over-sharing on social
How improving your content on social sometimes means narrowing the number of platforms
Quotes From This Episode
"Content marketing is as important as ever. It's the only sustainable, scaleable form of online marketing." —@lkr
[Tweet ""What people share and what people read are not necessarily the same thing." —@lkr"]
"Every share is an opportunity for more shares." —@lkr
"It's hard to wrap your head around how noisy it is out there. You are way too biased to your own content." —@lkr
[Tweet ""When people are sharing they are forming an image of themselves online." —@lkr"]
"I'm a huge believer in quality over quantity." —@lkr
"Don't get overwhelmed by the nuances of every network." —@lkr
H2H Lightning Round
What's holding you back from even greater success? Everyone gets limited by what they have experienced so far. Growing that comfort zone
Who do you look to the most for advice? Our leadership team at our company.
What's your best personal productivity suggestion? I'm a fan of getting off your phone. I like to sit down and work and have work time.
What book would you recommend right now? Scaling Up by Verne Harnish
If you had to start over tomorrow, knowing what you know now without any of the money, what is the first thing you would do to build your career back up? Thought leadership and growing your reputation and skills as an expert in your profession.
Resources