Putting Market Ahead of Product
Trey Lewellen is an innovator in ClickFunnel creation and success.
Trey went from a full-time insurance agent four years ago to building an e-commerce business that sold $20 million of physical products in 2016. He did this without using Amazon, eBay, or Shopify, and with nothing more than a simple two-page ClickFunnels website that used carefully optimized sales funnels.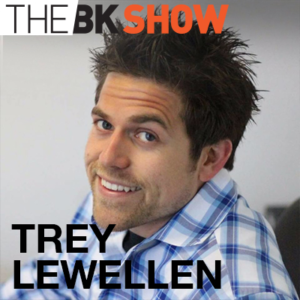 He got his start in entrepreneurship with a pool cleaning business at 16, and has done everything from selling tea, to selling hundreds of thousands of dollars of t-shirts on Teespring, and to now selling over 10,000 units per month across 20 different physical product lines. Today, Trey has built up an email list of 1.1 million subscribers and 300,000 buyers, and is selling the largest volume out of 50,000 ClickFunnels users. In addition to his eight-figure business selling physical products, Trey's passion is helping and mentoring others to have the same success in e-commerce that he has had.
Listen in as we discuss what he did, why he did it, and how staying human can help you build your market and find success.
In This Episode
Why a Market-First approach means selling them what they are already buying and nailing a 95% success rate
How teaching without asking for money leads to repeat customers
Why keeping the human element in an automated funnel means letting your true voice come through the noise
How infusing authenticity and originality into your process leads to a powerful vehicle for conversions and renewals
Quotes From This Episode
"The marketing behind the passion is where I'm at." —@Trey_Lewellen
[Tweet ""When you can go out and get in front of parades, that's when you win." —@Trey_Lewellen"]
"If a segment of people are buying a certain item, the masses of that niche will buy that same item." —@Trey_Lewellen
"You have to build a foundation that can sustain a lot of pillars and that will rise you to the top." —@Trey_Lewellen
"You just be you because that's all you can be." —@Trey_Lewellen
"The best funnel is one that other people can ride." —@Trey_Lewellen
[Tweet ""I have the pen to the book that I am writing for my life." —@Trey_Lewellen"]
H2H Lightning Round
What's holding you back from even greater success? Self-doubt. Everybody has that and everybody has to push through it.
Who do you look to the most for advice? I look for podcasts, people that are hustling, and people who have not had success yet.
What's your best personal productivity suggestion? You gotta keep clean. You gotta feed your brain clean stuff.
What business book would you recommend right now? Getting Everything You Can Out of All You've Got: 21 Ways You Can Out-Think, Out-Perform, and Out-Earn the Competition by Jay Abraham and The 12 Month Millionaire by Vincent James.
What is one thing that has you excited to work on right now? I love working on funnels and mentoring and seeing success in others.
If you had to start over tomorrow knowing what you know now but you can't take any money with you, what's the first thing you would do to build your career back up? Nothing. We started with no money and we built the audience, did an ask campaign, figured out what they were buying, and went from there.
Resources