Got something good to say? Well, you're already making your way towards being a successful podcaster!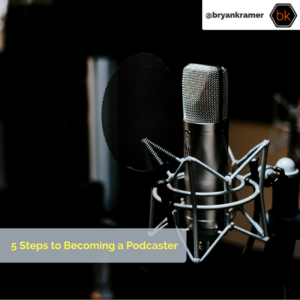 Offering insight on a subject and contributing valuable perspectives will take you a long way, but if you can't communicate your magical musings in an effective way then your pearls of wisdom could get lost at sea.
Podcasting is hot right now. In 2016, 21% of Americans over 12 said they'd listened to a podcast in the past month, which is a rate that's continued to grow every year since 2013. It's a content format that can easily nudge itself into people's daily lives; while you're driving your car, at work or when you're stuck at home doing all of the ironing. Anything that can make ironing a little bit more interesting should be taken seriously.
The point is that podcasting lets you into people's lives in an intimate way. They're listening to your voice while they go about their business – it's hands-free and allows listeners to multi-task. It's a great way to create content and to forge a connection with your listeners.
[Tweet "In 2016, 21% of Americans over 12 said they'd listened to a podcast in the past month via @bryankramer"]
So, how do you do it?
Examples of people rocking it and why
There are so many fantastic podcasts out there, covering all manner of weird and wonderful things.
This American Life is the mothership of podcasts and it's regularly the most downloaded podcast weekly. At its heart, is good storytelling and it usually uses first-person narratives to tell thought-provoking stories about all kinds of subjects. It's authentic and honest.
Tell me Something I Don't Know is a really fun show that combines science and a game-show format. The podcast delights in finding new, interesting nuggets of info. It provides valuable content and tries to go where other shows don't by highlighting niche knowledge.
The BK Show – shameless plug for my own podcast. If you want to be inspired by real stories from real humans who have accomplished incredible things in their career and their life, this is the podcast for you. It's only 20 min per episode, perfect for a car ride or workout.
This is just a couple of successful podcast formats and it's worth researching shows that are in your area of expertise. Listen and learn from as many podcasts as you can. What makes them so great?
Why you should NOT start a Podcast?
First off, if you really want to build a popular or genuinely valuable podcast – you're going to have to go in hard and work at it. Why?
It's a time commitment and you have to put work into researching your topics and content to make sure it's engaging. If you don't do a bit of research then it'll be easy to tell your podcast has no structure. You also need to work on building your audience and you can do this through social media and reaching out to people that you think will be interested in your content.
Energy must be high every time you hit record for your pod. This is your chance to dazzle your listeners with whatever content you create and being able to keep everyone on their toes with clear, concise points, delivered with high energy and bucket loads of personality is a must!
Steps to launching a podcast
So what are some of the steps you need to take before you launch your super-duper podcast?
What's the point of your podcast? Decide what your objectives are and create some calls to action that you can add to your episodes.
Pick a style that will suit you. You might prefer other people to do a lot of the talking, so get some guests involved and show-off your interviewing skills. If you're more comfortable and effective bouncing ideas off someone else then get someone else to host with you. Or you could do a solo, narrative podcast that's about storytelling.
Create a schedule to keep you on track and decide how long you want your podcast episodes to be. Research your podcast topic and make sure you know your stuff, record your intros and jingles separately, give yourself lots of time for recording and then edit everything down.
Find some interesting perspectives and different viewpoints on your subject to make your podcast stand out.
How to market your new show
You need to look at your podcast like a brand, so work on building it with some savvy marketing techniques.
Choose a name that people will remember and give your podcast a memorable image too, so people stop to have a look when they're searching for something new to listen to.
Wherever your podcast is sitting on the web; write engaging, eye-catching copy to go with it, so you can give people a snappy insight into what your pod is all about. This could be on a pre-launch landing page on your website.
If you have a mailing list (you should) then build interest and awareness around your new podcast and start a countdown to create a buzz. The same goes for spreading the message on your social media channels too.
Give people an incentive to listen to your new show; start a competition where people have to listen to find out a specific answer.
Tell all of your family, friends, colleagues, acquaintances…your friends' dogs (most important).
Let people have a sneak peek (listen) to your podcast and grab some early testimonials to go with your promotional package.
The tools needed
A podcaster needs tools otherwise…it's just you talking to yourself in an empty room.
What do you need to take the world by storm?
A quiet space. Shhh.
Microphone – This one's obvious, but you need a microphone to make sure your sound quality is on-point and minimize exterior noise. The Blue Mic is what I use and highly recommend (full disclosure, this is affiliate link).
Headphones – You might want to invest in some good headphones to block out noise and you can hear what you sound like while you're recording. You'll feel like a podcast badass too. Don't feel like you have to spend on headphones just yet, any pair you have will work with your Blue Mic.
Laptop/computer – Editing your podcast is a big part of the process and you can download software to help you do this. Tools like Adobe Audition and Garage Band are recommended. If you want someone to handle this part for you, ping me on twitter or leave a message below and I'll give you a referral.
Sound Shield – if you feel like you are going to be in a noisy space, do yourself a favor and get a noise shield (this is the shield I recommend). It will go a long way, sound is everything with your podcast and will make your editing process that much easier!

There you have it – your guide to podcast success.
One of the most important pieces of advice is to have fun with it! It can be a great marketing tool and it can help you polish your speaking and communication skills.
If you enjoy yourself then it'll shine through on your podcast and people will come back to get a healthy dose of your winning personality and learn something new too.
Go get 'em tiger.