SEASON 2, EPISODE 24
Benedict has always felt his connection to the Creator. Listening to 'that' voice became an internal compass, creating and leading him to walk the paths of his life.
BENEDICT HADLEY
In This Episode
Wanting to be a film maker from a very young age
Walking his path
Learning to harness his risk taker voice
The block hack: charging up a block with art
Listening to that voice that gives him direction from the Creator
Creating work in and for the community
Media-enhanced immersive storytelling using art
Quotations From This Episode
"Realize how important it is to listen to your voice, to your inner voice." –.@benedict_hadley
"There are things that need to be fixed in this world." –.@benedict_hadley
"The same day you plant the seed is not the day that you bear the fruit." –.@benedict_hadley
"If you have a big enough being, you can come into a space and you can crack it wide open." –.@benedict_hadley
"It's important for us to know who we are and respect who we were designed to be." –.@benedict_hadley
"The Creator told me once that like, I'm not giving you thoughts, I'm giving you direction." –.@benedict_hadley
"There's enough abundance on earth actually, for maybe everyone to be wealthy, if you understand what wealth really is." –.@benedict_hadley
"Life is about 2% reality, and like 98% in your head." –.@benedict_hadley
Biography
Benedict Hadley is a Prolific Polymath, Film Maker, Artist, Risk Taker and founder of The Hadley Broadcasting Company. His work focuses on the human spirit, the creator and interactive media projects, films and experiences that engage and enhance the community through equity and the broadcasting of created media on large scale walls via interactive video projection.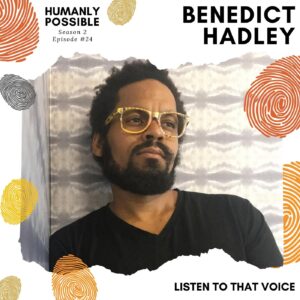 His work is created in and for the community with the aesthetic and creative principles that build a bridge from local to international.
Benedict is an accomplished & respected film maker & editor whose work has been screened worldwide at the Cannes Film Festival, New York Fashion Week and many others. His diverse commercial art and films includes work for JAY Z, Francis Ford Coppola, PBS, Sprite, Best-selling Author John Ziesel, Michelin Star Chef Aliya LeeKong, The Museum of Art Seoul and The National Urban League. He is a 3-time Harvard Loeb Fellowship Nominee for work in the built and natural environment and most recently was featured as a speaker at internet pioneer Jeff Pulver's VON3 Summit where he discussed Redefining Broadcasting for an equitable future.
Resources
P.S. – If you enjoy the show, please rate it on iTunes and write a brief (one sentence) review. Reviews help more people like you to discover the show!
Check out other shows here at Humanly Possible
Transcript
Summary Keywords
listen, path, creator, direction, art, abundance, community
Speakers
Benedict Hadley, Bryan Kramer