SEASON 2, EPISODE 22
In this thought-provoking interview, David shares a revolutionary approach to leadership – experiences, insight, and examples – that will transform your mind, organization, career and life.
DAVID GOLDSMITH
In This Episode
Some of the small pieces of life that have been integrated into today
Stopping pre-med and starting his first business
Going back to university to finish the requirements for a degree
Living in and getting to know the culture of global places where he worked
The TEDx Luxembourg City Talk: How Great Leaders Inspire Happiness at Work and in Life
The construct that 80% of the results come from the systems and structure, and 20% from the people
Looking at productivity in a different way
Theoretical jumps
Being a leadership salesperson
Quotations From This Episode
"Life is a series of activities that are interconnected." –.@goldsmith
"There's really nothing small because we are a culmination of every activity that's happened." –.@goldsmith
"You can't fix yesterday; you can only create tomorrow; live by that." –.@goldsmith
"Your job as a leader is to help build the infrastructure, the systems and structure, the policy, the programs initiatives, so that when you bring on talent, they can be talented." –.@goldsmith
"In this context is a group of people who are extremely valuable because it's their job, and that is the leadership." –.@goldsmith
"The job of the leader…  to think long term, to put the pieces together, to see the interconnectedness." –.@goldsmith
"All leaders need to learn how to sell." –.@goldsmith
"I look for the way in which an individual can be productive in their own right." –.@goldsmith
"Volume and capabilities are not predicated by the number of employees you have and how big your revenue is." –.@goldsmith
"Part of the job of being human is learning how to be able to get your point across." –.@goldsmith
Biography
David Goldsmith is President and Co-founder of the Goldsmith Organization (New York and Hong Kong), a consulting firm solving big challenges for executive clients worldwide in commerce, nonprofits, governments, militaries, and education; and Co-founder of Buzd, LLC (San Francisco), a firm in which he is a patent holder for technological applications and products related to artificial intelligence, cell phone applications, battery technologies, and consumer products. He is the Founder of the Project Moon Hut Foundation and Project Leader of the global social movement, Project Moon Hut/The Age of Infinite, a seven-year effort with NASA (Silicon Valley) to improve life on Earth through the accelerated development of an earth-and-space based ecosystem. In addition to consulting and advising, David presents at events themed for executives on topics ranging from strategy and leadership to innovation, the future (including AI, robotics, machine learning, synthetic engineering, and automation), and space.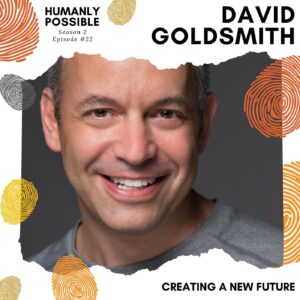 David was the Co-founder of ecosystem.AI (San Francisco/Cape Town, SA), a predictive analytics and visualization company finding hidden value in market and organizational complexity relation-ships through identified patterns and spatial trends to reveal how business and organizational ecosystems change over time; Co-founder and CEO of TymSync, Inc. (San Diego), a patented-cellphone technology company; Chief Officer of Strategy for N2 (New York), a company specializing in SuperGrid and IoT technology for use in advanced smart city development for the future; and has been an adviser and stakeholder in several innovative startups from around the world; Chief Strategy Officer and Partner in COMO Global SA (Luxembourg) a software company with expertise in managed back end payment solutions for market networks and fully automated invoicing through to reconciliation for large enterprises.
Resources
P.S. – If you enjoy the show, please rate it on iTunes and write a brief (one sentence) review. Reviews help more people like you to discover the show!
Check out other shows here at Humanly Possible
Transcript
Summary Keywords
business, culture, leadership, productivity, interconnected, life
Speakers
David Goldsmith, Bryan Kramer