SEASON 2, EPISODE 21
Impacted by an early networking lesson from his father and the examples set by good bosses, Stuart has taken his executive leadership roles from Hilton, Hennessey, and Top Golf very seriously over the years and learned to appreciate the little differences between locales, cultures, work, and life.
STUART FOSTER
A modest gift from his grandmother that sparked a new interest
The story behind how Stuart got into the wine business
How a networking lesson from his father helped Stuart land his first job as a college senior
Working his way up through the marketing ranks with brands like L'Oreal and Hennessy
The impact of having good leaders and bosses as role models
A pivotal moment that shifted Stuart's mindset on how he thinks about leadership
Appreciating the little differences between locales and cultures
The marketing/branding business project Stuart is most proud of
The next phase: working with Chief Outsiders as a Fractional CMO
Quotations From This Episode
"I opened the wine and this little thing, all of a sudden just went off in my head like, oh my god, this is amazing." .@hstuartfoster
"What I came to realize later was how much wine brings people together." .@hstuartfoster
"When I put my mind to something, I just, I've never let anything get in my way." .@hstuartfoster
"It's been having good mentors and leaders myself to see what a good boss is like." .@hstuartfoster
"Having an entirely Japanese team reporting to me, really made me think about how I operated as a leader, because I had to lead them, I had to guide them." .@hstuartfoster
"For me to accommodate all of that moving, it required… understanding what's the same, and what's different, and separating those two things." .@hstuartfoster
"I don't subscribe to this idea of work life balance. It's all life." .@hstuartfoster
"If it's not personalized, why have a relationship with a brand or company?" .@hstuartfoster
"I love bringing clarity to chaos. That's what my superpower is." .@hstuartfoster
Biography
An innovative leader with world-class digital and experiential capabilities, Stuart Foster transforms global brands and businesses to achieve revenue, profit, and market share growth. A proven team builder with the ability to deliver results, he leverages consumer insights and analytics with his deep functional skills across business disciplines. As a trusted partner in managing difficult business challenges, Stuart finds new opportunities for growth, revitalizes mature brands, creates new brands, and leads high-performing, cross-functional teams through transformational change in both private and public companies.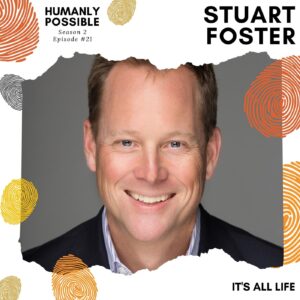 Resources
P.S. – If you enjoy the show, please rate it on iTunes and write a brief (one sentence) review. Reviews help more people like you to discover the show!
Check out other shows here at Humanly Possible
Transcript
Summary Keywords
networking, marketing, impact, leadership, branding, life, relationship
Speakers
Stuart Foster, Bryan Kramer