Learn it. Live it. Give it.
Jairek Robbins is a man on a mission that is focused on developing creative solutions for accelerating results.
He is a decorated performance coach and lifestyle entrepreneur who has applied his innovative methods to living a life of adventure, philanthropy, and entrepreneurship. At the age of twenty-three,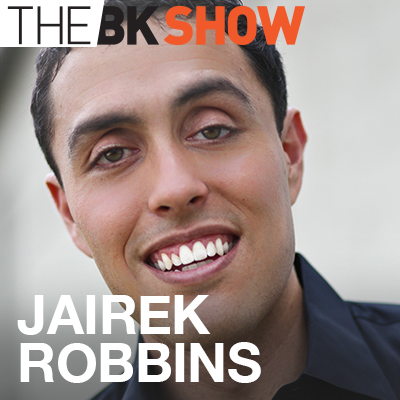 Jairek was awarded the Congressional Award Gold Medal from the United States Congress. By twenty-five, he gained international renown as the creator of a revolutionary approach to maximizing personal performance that accelerated organizational success for a wide range of businesses.
Jairek's personal journey has included circumnavigating the globe on a ship, helping build schools and houses in multiple countries, cage diving with great white sharks, encountering silverback gorillas in Rwanda, and working as a volunteer in underdeveloped regions. He supports a number of charities and nonprofits, such as the Change Heroes and the Pencils of Promise Foundation.
Listen in as we discuss finding the path to happiness through purpose, security, and living and feeling fully.
In This Episode
How knowing what you're best at leads to knowing who and how to help
Why finding joy means sometimes putting all your energy into feeling angry
How focusing on others leads to building your own confidence and charisma
Why moving forward means finding security first
Quotes From This Episode
"Even if you love it and you're good at it, most people don't care." —@JairekRobbins
"Reaching that person at the exact moment they need it with the message they needed is the greatest result you could ever have." —@JairekRobbins
"Sometimes you don't need a magic formula. Just stay out of the way and let them take care of it." —@JairekRobbins
[Tweet ""Any emotion felt fully leads back to joy." —@JairekRobbins"]
"Your confidence boosts because you feel you have value within that you can share with somebody." —@JairekRobbins
"There's certain things that have to come first for a person to feel safe and secure in order to move forward." —@JairekRobbins
[Tweet ""Being happy goes out the door the moment you can't breathe." —@JairekRobbins"]
Resources