SEASON 2, EPISODE 9
Learn how signing up for a coaching course early in her career led Christie to deep transformational work on how to look inside and be more of who she truly is.
CHRISTIE MANN
In This Episode
An early career decision that turned out to be a massive shift
How to reframe your life when that's needed
Doing the deep transformational work
Revisiting childhood trauma with her Dad and healing
Conscious communication and listening
Taking responsibility for developing yourself
Creating her deepest work in her book series and the character Lil Sass
How to leave your largest impact in the world
Quotations From This Episode
"The leadership program, it just opened me up to a whole new world of the evolution of consciousness of my own development." –Christie Mann
"What I want to do when I grow up is help other leaders give themselves more permission to bring their full self to the workplace." –Christie Mann
"What was really important to me was that I was walking the talk." –Christie Mann
"We have a duty to be looking at ourselves, reflecting on who we're being, the impact we're creating, and developing those tools in the toolkit, because I don't think you can just coast anymore." –Christie Mann
"What it gave me operating from that mindset was more trust; more trust in myself, more trust that I am safe." –Christie Mann
"She [Lil Sass] reframes that having an emotion is not a negative thing, it's a natural thing, and there are ways to do it in a responsible way." –Christie Mann
"When I think about legacy, I just I want people to say, she helped me be more of myself." –Christie Mann
Biography
Christie Mann is a best-selling author, executive coach, learning consultant, speaker, and meditation teacher who designs, delivers and facilitates transformational content and experiences.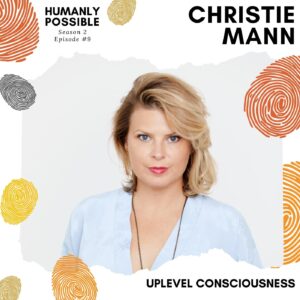 Her business leadership experience over the past two-decades in marketing, operations, sales, business development, strategic partnerships and learning & development has allowed her to work with some of the world's leading brands and organizations. She possesses a rare ability to create larger organizational visions and make things real, while achieving and exceeding targets, operating profitable P&Ls and leading empowered teams who take responsibility for their results and their worlds.
She is a proud member of CTI (the world's oldest and largest in-person coach-training school), The Trium Groups Faculty and Organizational Coaching teams, delivering courses and coaching leaders in over 22 countries across the globe. Christie has a Masters in Spiritual Psychology and holds a B.A. in Media Information and Technoculture from the University of Western Ontario.
She is the creator of the Emotional Leadership Academy, a 6-week Virtual Intensive, developed after the overwhelming response from adults with the release of The Adventures of Lil Sass, a series of emotional wellness books for young people. In awe of children's resilience and emotional flexibility, she champions adults' rights to have and express emotions too.
When she's not in the classroom, writing, on her mat, or in the boardroom, Christie is bringing leadership development tools to the vulnerable youth incarcerated in Southern California and Ontario, Canada. As a Co-Founder of UpLevel Productions, Christie works with individuals and organizations to support them to UpLevel all areas of well-being and ignite their true potential.
Resources
P.S. – If you enjoy the show, please rate it on iTunes and write a brief (one sentence) review. Reviews help more people like you to discover the show!
Check out other shows here at Humanly Possible
Transcript
Summary Keywords
coaching, leadership, transformation, consciousness, communication, responsibility
Speakers
Christie Mann, Bryan Kramer