SEASON 2, EPISODE 10
Learn how being nudged to attend a 3-day course on coaching training became life transformational for Kvon and led him to the purpose filled path he is on today.
KVON TUCKER
In This Episode
Receiving the nudge to go to coaching training
Finding his life purpose
Creating Consciously, a channel to do coaching work
Enjoying the journey
The opportunities that came from pursuing more purposeful work
What makes a leader a better leader?
Developing a purpose statement
Learning to be loving leaders who accept and appreciate the differences of people
Kvon's vision for the future of Consciously
Quotations From This Episode
"[I] feel so grateful that mentor pointed me in that direction."–Kvon Tucker
"Some people's journeys go faster, some people's journeys take longer; but it's been an amazing journey for me." –Kvon Tucker
"Rewarding and challenging is kind of, I think, the mantra for doing purposeful work." –Kvon Tucker
"A loving leader is someone who is centered on supporting people, listening to them, helping them grow." –Kvon Tucker
"I want to encourage folks to love the people that they're leading on purpose." –Kvon Tucker
"I want Consciously to become a purpose driven coaching platform." –Kvon Tucker
Biography
Kvon Tucker is the CEO & Co-founder of Consciously, a collective centered on the idea that the more you live your life on purpose, the more good you create for yourself and others.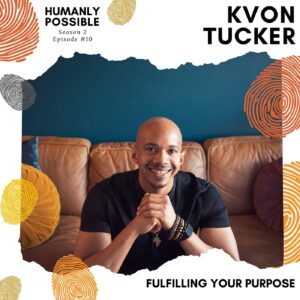 Kvon is a Fortune 500 Executive & Leadership Coach, Spiritual Abolitionist, and co-conspirator towards awakening people to their own truth and purpose.
Resources
Website: https://consciously.one/
Instagram: @consciously_kvon

P.S. – If you enjoy the show, please rate it on iTunes and write a brief (one sentence) review. Reviews help more people like you to discover the show!

Check out other shows here at Humanly Possible

Transcript

Summary Keywords

coaching, mentor, transformation, consciousness, purpose, fulfillment, leadership

Speakers

Kvon Tucker, Bryan Kramer