SEASON 2, EPISODE 1
Learn how Whitney shifted her choice of colleges, began her career in a field entirely different from her major, and ultimately ended up right where she belongs.
WHITNEY JOHNSON
In This Episode
How not getting into first choice of colleges was a small shift with big outcomes
From music major to equity analyst
The importance of having an opinion
Becoming less interested in just 'picking' stocks, and more interested in picking people.
Spotting people's gifts
The S Curve Insight Platform
Quotations From This Episode
"Marriage is what gave me the confidence that I could go out and experiment [career wise] and try some things." – .@johnsonwhitney
"People can disrupt themselves." – .@johnsonwhitney
"I'm much more interested in the momentum of people." — .@johnsonwhitney
"Are you willing to disrupt yourself?" — .@johnsonwhitney
"I believe fundamentally growth is our default setting." — .@johnsonwhitney
Biography
Whitney Johnson is the CEO of human capital consultancy Disruption Advisors, an Inc. 5000 2020 fastest-growing private company in America. One of the 50 leading business thinkers in the world (#14) as named by Thinkers50, Whitney is an expert at smart growth leadership.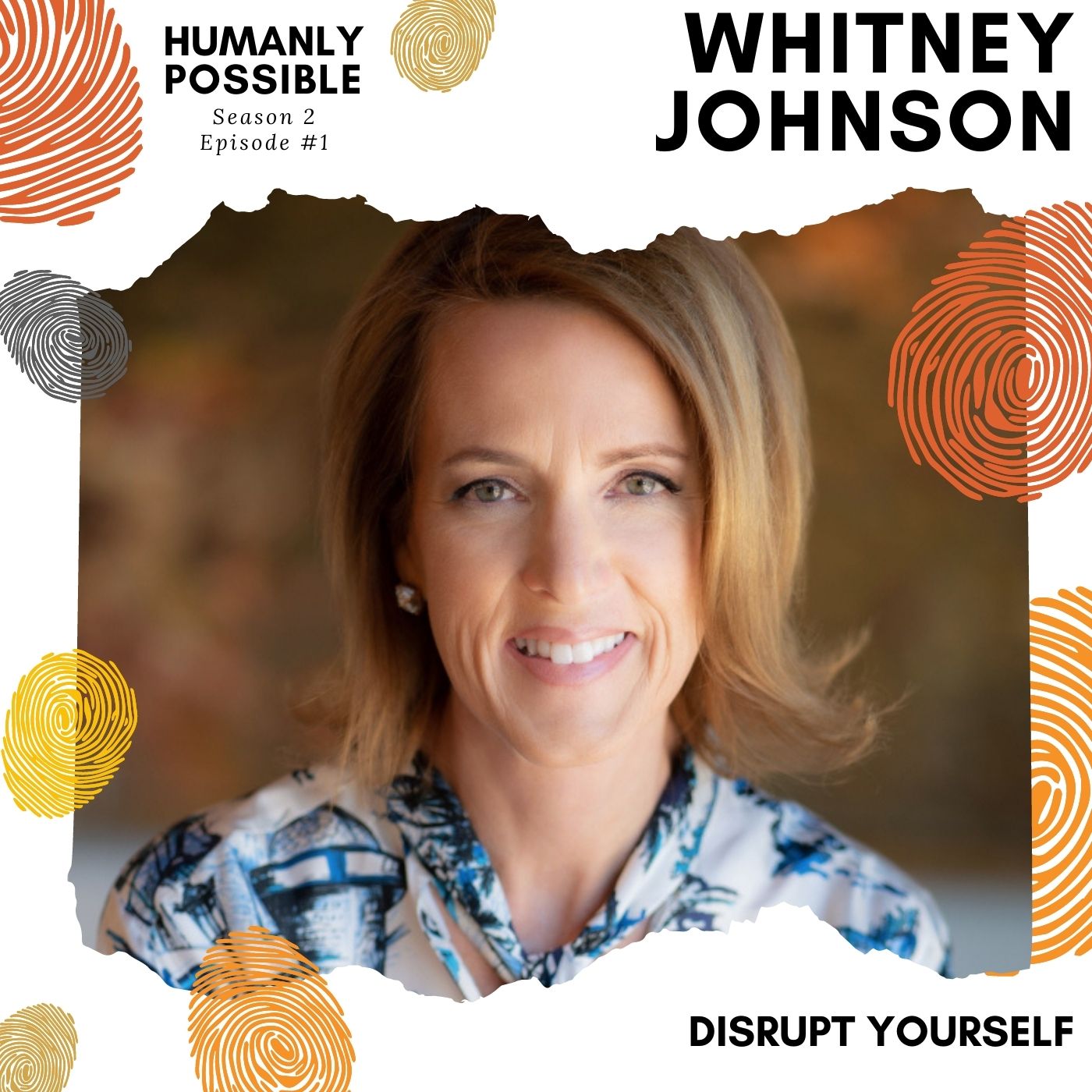 Having worked at FORTUNE 100 companies, been an award-winning equity analyst on Wall Street, invested with Harvard's Clayton Christensen, and coached alongside the renowned Marshall Goldsmith (who selected her in 2017 from more than 16,000 candidates as a "Top 15" Coach), Whitney understands how companies work, how investors think, and how the best coaches coach–––all of which she brings when working with and coaching CEOs and C-Suite executives.
Whitney is an award-winning author, world-class keynote speaker, and frequent lecturer for Harvard Business School's Corporate Learning. She is a popular contributor to the Harvard Business Review, has 1.8 million followers on LinkedIn, where she was selected as a Top Voice in 2020, and her course on Fundamentals of Entrepreneurship has been viewed more than 1 million times.
An innovation and disruption theorist, Whitney is a frequent contributor to Harvard Business Review and MIT Sloan Management Review, author of bestselling Build an A Team, a Financial Times Book of the Month, and Disrupt Yourself which Publisher's Weekly called "Savvy . . . often counterintuitive . . . superb." She also hosts the weekly Disrupt Yourself podcast whose guests have included John Mackey, Brené Brown, Stephen M.R. Covey, and Zaza Pachulia.
Whitney was the co-founder of the Disruptive Innovation Fund, involved in fund formation, capital raising, and the development of the fund's strategy, with Harvard Business School's Clayton Christensen. They invested and led the $8 million seed round for South Korea's Coupang, currently valued at more than $60 billion.
Whitney is married, has two children, and lives in Lexington, VA.
Resources
Whitney's Social Media Links
P.S. – If you enjoy the show, please rate it on iTunes and write a brief (one sentence) review. Reviews help more people like you to discover the show!
Check out other shows here at Humanly Possible
Transcript
Summary Keywords
confidence, opinion, disrupt, momentum, growth
Speakers
Whitney Johnson, Bryan Kramer