SEASON 2, EPISODE 14
Drew's self-imposed commitment to the discipline of writing left him needing something to write about. Hundreds of interviews with CMOs later, he's found the most purposeful work of his career and believes that a courageous, artful, thoughtful and scientific marketing strategy can make the world better.
DREW NEISSER
In This Episode
Growing from little Andy Neisser into Drew Neisser
The clever way Drew landed his first job at an advertising agency
Working his way through different traditional advertising agencies
Living with ADD
Drew's secret to happiness and pleasant attitude
How making the commitment to write regularly led to interviewing hundreds of CMOs
Everything that evolved from interviewing all those CMOs
The forming of CMO Huddles
Quotations From This Episode
"What are the things that only I can do in the organization that will move us forward?" –.@DrewNeisser
"What are the things that I can do that will make a difference?" –.@DrewNeisser
"As long as it's on my calendar, I get it done. That's one key thing." –.@DrewNeisser
"One of the things that was always important to me is that everybody who worked at Renegade, this was the best place they ever worked." –.@DrewNeisser
"I make decisions based on sort of sometimes that are not even in my own self-interest, but are just in the interest of the people around me." –.@DrewNeisser
"If you don't have a courageous strategy, it really doesn't matter how artful you are." –.@DrewNeisser
"When you look at businesses or individuals… what are the things that you can own and simplify and just define yourself in a way that makes you distinct." –.@DrewNeisser
"Daring to be distinct. It's a business strategy that translates it into a marketing strategy." –.@DrewNeisser
"I do think that marketing can make the world better, and I think the CMOS can do that." –.@DrewNeisser
Biography
David Taylor-Klaus reintroduces successful entrepreneurs and senior executives to their families. Through coaching, David's clients create the kind of life rhythm that enables them to build profitable businesses, raise thriving families, and live wildly fulfilling lives.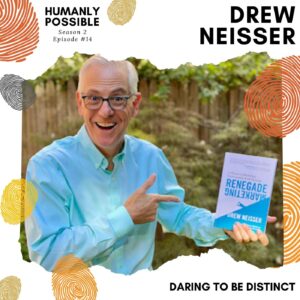 Ranked among top B2B influencers, Drew has been a featured marketing expert on ABC News, CNBC, CBS Radio and Tony Robbins podcast among many others His 2nd book, Renegade Marketing: 12 Steps to Building Unbeatable B2B Brands launched October 5th, 2021.
Drew earned a BA in history from Duke University, lives in Manhattan with his wife and is the proud parent of two delightful grown-ups and a French bulldog named Louie. He currently sits on the boards of the Urban Green Council and the Duke Alumni Association. An avid Ben Franklin fan, Drew's favorite aphorism remains, Well done is better than well said.
Resources
P.S. – If you enjoy the show, please rate it on iTunes and write a brief (one sentence) review. Reviews help more people like you to discover the show!
Check out other shows here at Humanly Possible
Transcript
Summary Keywords
advertising, marketing, courageous, thoughtful, distinct, purposeful
Speakers
Drew Neisser, Bryan Kramer