SEASON 2, EPISODE 15
In this intimate interview, Bryan's father-in-law Vern shares incredible stories of what he calls "the little things" that happened throughout his years that contributed to him living a life he never could have imagined..
VERN SMITH
In This Episode
The shaping of self-image at an early age
The impactful examples set by his parents
The importance of travel to a person's education
Growing up and experimenting in a different era
Ten cans of Spam
Changing college majors 5 times
An unexpected medical diagnosis that actually opened the door to his lifelong career
Serving the public as a health economist and Medicaid Director
Continuing his service in a consulting role after retirement
The significance of the words on a plaque that used to hang in his father's office
The little shift that led to Vern meeting his wife of 55 years, Paula
Quotations From This Episode
"Life changed in an important direction, or in an important way, as a result of something that happened." –Vern Smith
"I'm eternally grateful for the example set by my parents," –Vern Smith
"All of those experiences built on themselves… you do one thing that gives you confidence to do another." –Vern Smith
"That moment changed my life… 20 some years later, I was Medicaid director for the state of Michigan." –Vern Smith
"It was the most fortuitous thing that could possibly have happened in terms of my career." –Vern Smith
"When you're in a position at that level, the most important job qualification you can have is the trust of the people that you're working for." –Vern Smith
"What made it enjoyable was that you knew you're making a difference on something that was really important to people." –Vern Smith
"I think states are the laboratories of innovation, and there's no place where that's more true than in state Medicaid programs." –Vern Smith
"There was a little plaque in his office, and it said, 'live your life for something that will outlive you'." –Vern Smith
"The most satisfying things in life, the most important things in life, are when you have a purpose." –Vern Smith
"If I hadn't met her [Paula], if things hadn't worked out in this particular way, just think how my whole world would have been different." –Vern Smith
Biography
Vern Smith is a nationally lauded expert in Medicaid, Medicare, state budgets, and trends in the healthcare marketplace. He has authored numerous reports on current issues in Medicaid and state strategies for containing health care costs and improving quality.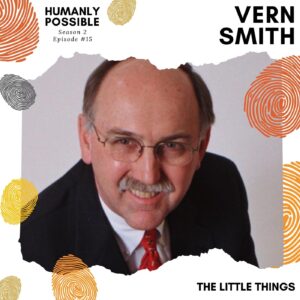 Vern has presented before many national and state audiences, including the National Governors Association, the National Conference of State Legislatures, the Council of State Governments, the National Association of State Budget Officers, the National Association of State Medicaid Directors, the National Health Policy Forum, committees of the U.S. Congress, and Medicaid reform groups in many states.
He has been a guest on National Public Radio and is an often-quoted public health policy expert for The New York Times, The Washington Post, The Wall Street Journal, Newsweek, and USA Today.
Vern had a distinguished 30-year public service career, serving as Michigan Medicaid director and as budget director for the human services agency. He was a managing principal at Health Management Associates, and now holds the title of Senior Advisor Emeritus at HMA.
Vern earned a Ph.D. in economics from Michigan State University. He serves on the board of trustees of Anderson University, his undergraduate alma mater.
P.S. – If you enjoy the show, please rate it on iTunes and write a brief (one sentence) review. Reviews help more people like you to discover the show!
Check out other shows here at Humanly Possible
Transcript
Summary Keywords
self-image, experiences, gratitude, trust, difference, innovation
Speakers
Vern Smith, Bryan Kramer