SEASON 2, EPISODE 4
Learn how Lynn made one choice that completely transformed her career and personal life, and in doing so found her joy.
LYNN SMITH
In This Episode
The transition from TV news anchor to national media expert
Growing into the role of a storyteller
Listen and learn
Choosing you
Saying your weakness out loud
Quotations From This Episode
"There is only one you." – .@LynnSmithTV
"Be yourself and the rest will follow." — .@LynnSmithTV
"What is it that's so different about you?" – .@LynnSmithTV
"Your impact is only as great as your story." — .@LynnSmithTV
Biography
Lynn Smith is a National Media Expert, NBC News, MSNBC and CNN Headline News anchor alum, and a Storyteller.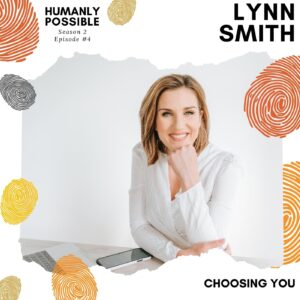 Starting as an executive assistant in Hollywood, Lynn Smith used to cut out articles from the NY Post that might make a compelling Law and Order episode. Storytelling has always been a passion but it became a reality when she made the move East to become a Producer at the TODAY show, then an on-air contributor for todayshow.com. That inspired a leap from behind the camera to in front of the camera as an anchor and reporter in Hartford, Philadelphia, and New York City in the number 1 local market in the country. She moved to National News as the anchor of Early TODAY on NBC and First Look on MSNBC. A move South brought her to CNN Headline News and the home where she'd meet her incredible husband Graham, and later welcome 2 beautiful boys, Ryder and Lochlan.
Lynn is now taking her 20 years of experience in journalism and storytelling to experts, entrepreneurs and corporations to help develop and deliver impactful content through her company Rylan Media.
Resources
Lynn's Social Media Links
P.S. – If you enjoy the show, please rate it on iTunes and write a brief (one sentence) review. Reviews help more people like you to discover the show!
Check out other shows here at Humanly Possible
Transcript
Summary Keywords
transition, growth, listening, choosing, joy, impact
Speakers
Lynn Smith, Bryan Kramer