SEASON 2, EPISODE 6
Learn how Stephanie turned the lens on herself, tapped into her personal story, and now uses that experience combined with her branding and marketing background to help others define and weave storyline into a powerful offer.
STEPHANIE CENEDELLA
In This Episode
Making the shift from the profit-based space to the purpose-based space
Stepping away from a lucrative business and stepping into her truth
Finding out as a teen her dad was a closeted gay man
Owning our voice
Rolling the red carpet out of our story
Quotations From This Episode
"It was really turning the lens on myself for the first time." .@skcenedella
"I wasn't owning my story; I was just focused on profit and money and how important that was." .@skcenedella
"It's also about… leading a joyful, happy life that feels really fulfilling and exciting." .@skcenedella
"At that point in my life I just felt like, am I really making good noise, and I didn't feel like I was." .@skcenedella
"I want to weave it into individuals that really deserve to own who they are." .@skcenedella
"It's very much about crafting story that then will make connection." .@skcenedella
"Everyone deserves to own and live their story." .@skcenedella
"Hold that life microphone with two hands." .@skcenedella
Biography
As a consultant, Stephanie Cenedella works with individuals to define and weave storyline into a powerful offer. She serves individuals, entrepreneurs, teams and executives to pull themselves out of the margins, to fast track the most profound authentic stories into profits.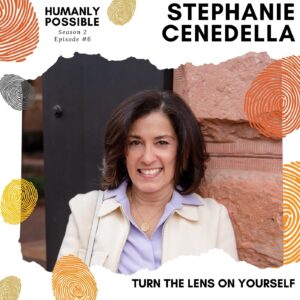 Stephanie spent 20+ years working with Fortune 500 brands such as: Keebler Company, Jockey International, Kraft General Foods, Helene Curtis and many more. She has served as Brand Expert on advisory boards for: The Reverie Theater Company (Chicago, IL), Friends School (Boulder, CO), and The Women of Denver.
Married 25 years to her rock star husband, they are outrageously proud of their two college kids who continue to craft their personal stories.
Resources
P.S. – If you enjoy the show, please rate it on iTunes and write a brief (one sentence) review. Reviews help more people like you to discover the show!
Check out other shows here at Humanly Possible
Transcript
Summary Keywords
truth, voice, story, owning, vulnerability, connection
Speakers
Stephanie Cenedella, Bryan Kramer