SEASON 2, EPISODE 20
Once Lyz deconstructed and figured out what her fear was, she committed to learning the craft of writing a book and shares her journey to now over 22 books that have been read around the world with us.
LYZ KELLEY
In This Episode
Reflecting on turning 40 and examining the fear behind a very important question asked by her husband
Living with dyslexia and wanting to write a book
Learning the craft: how to write a book and how to do story structure
Aligning with other authors who helped with her journey
Persevering through redlines and rejections to become a published author
Setting up her own publishing company
Learning how to market to the readers she needed to connect with
The epic fantasy novel that will be written
Lyz's writing process
Traditional publishing vs. self-publishing
Quotations From This Episode
"What is the one thing that's not on your bucket list that you're afraid to put on there?" –.@LyzKelley
"A writer being dyslexic is like, who do you think you are to write a book when you're dyslexic?" –.@LyzKelley
"It was just… one step at a time up that mountain." –.@LyzKelley
"I didn't mind because at the end of the day, I knew what my writers 'why' was." –.@LyzKelley
"I just watched and listened and mimicked until I got to a point where I didn't need to mimic anymore." –.@LyzKelley
"How do I create that human-to-human connection where I can get in touch with those people?" –.@LyzKelley
"I want to really put the message out there there's nothing and I mean nothing stopping you from reaching a dream." –.@LyzKelley
"Be your spark and ignite it and go after your dream." –.@LyzKelley
"Give yourself permission to write crap, because you cannot edit what is not on the page." –.@LyzKelley
"Just hit the button, give yourself permission to not be perfect." –.@LyzKelley
Biography
Lyz Kelley is a speaker, creative, and award-winning USA Today bestselling authorpreneur of everyday heroes who want more than just the ordinary.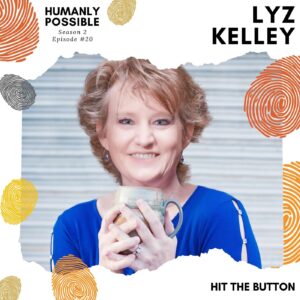 A healing love is at the heart of her book series. Creating wounded yet amazing characters—discovering what drives them, frightens them, heals them, makes them laugh—is what gives her joy. Lyz is pleased to share that joy with​ her masterfully written stories.
To keep tabs on her newest releases, connect with Lyz by signing up for her newsletter. Members receive two free books for joining.
Resources
Website: https://www.lyzkelley.com/index.html
Twitter: .@LyzKelley
Instagram: @LyzKelley
P.S. – If you enjoy the show, please rate it on iTunes and write a brief (one sentence) review. Reviews help more people like you to discover the show!
Check out other shows here at Humanly Possible
Transcript
Summary Keywords
reflecting, fear, dyslexia, craft, writing, process, journey
Speakers
Lyz Kelley, Bryan Kramer