SEASON 2, EPISODE 12
Once Angus found the courage to seek counseling and dive into the right books, he made the mindshift to come from a place of internal happiness, and his ceiling became his floor.
ANGUS NELSON
In This Episode
Transforming your life by reading the right things
Finding the courage to see a counselor
Finding fulfillment within and not from things
Paradox and polarity
Release taking it personally
Quest to go outside your "box" so you can grow
Learning how to receive
Quotations From This Episode
"I finally had the courage to go see a counselor, and it was the best thing I ever could do." –.@angusnelson
"What I've learned is that anger is actually a mask of grief and sadness." –.@angusnelson
"I was putting on a mask and trying to pretend to be something that I wasn't." –.@angusnelson
"What if you just got happy today? What if you just chose to be fulfilled today?" –.@angusnelson
"What if you don't take things that happen to you in your life as personal?" –.@angusnelson
"So, you operate at this new frequency and this new vibe, and what once was your ceiling now becomes your floor." –.@angusnelson
"To be humble also means to receive and to understand, like, I don't have to be the hero anymore… now I can be the patient." –.@angusnelson
Biography
Angus Nelson is a man on a mission: to help ambitious men find a life of meaning and purpose, free from the constraints of limitations imposed by others or self. He helps men create lives they've always wanted. As an entrepreneur, Angus endured the pain of burnout, addiction, and divorce as the gut-wrenching consequences of neglect in his own mental-health, self-awareness, and humility.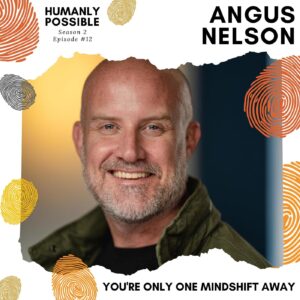 Angus is the Founder of Evolve Men Coaching and is one of America's top men's performance strategists. He spent the last decade working with high-achieving leaders using his signature alignment tool, The Manhood Matrix, to discover what ignites men at their core.
He's spoken for global brands like Walmart, Coca-Cola, BMW, and Disney and will host the upcoming Evolve Men Podcast. He is ecstatically married with three children living in Nashville, Tennessee. He loves all things human behavior, Green Bay Packers, and BBQ nachos.
Connect
P.S. – If you enjoy the show, please rate it on iTunes and write a brief (one sentence) review. Reviews help more people like you to discover the show!
Check out other shows here at Humanly Possible
Transcript
Summary Keywords
courage, fulfillment, transformation, anger, happy, humble
Speakers
Angus Nelson, Bryan Kramer