SEASON 2, EPISODE 11
Burned out and frustrated, David shifted the language he used to talk to himself, reconnected with who he is and what he wanted, and now coaches successful entrepreneurs and senior executives to live wildly fulfilling lives.
DAVID TAYLOR-KLAUS
In This Episode
Rebelling against what he had created because he thought it was what he should do
Reconnecting to his core and what he actually wanted
Being mindful of the internal saboteur and the two-year child inside
Reintroducing successful entrepreneurs and senior executives to their families
Looking at unwritten rules that are running our life
Deep values clarification
Stop trying to power through burnout
Seeing the world as we are
Quotations From This Episode
"What I learned was that my language was creating my reality." –.@dtk
"I started to get reconnected to what I actually wanted and how I wanted to lead and the work that I wanted to be doing in the world." –.@dtk
"When the language I use to talk to myself gets nasty; I would never say those things to a two-year-old child." –.@dtk
"The only difference between an entrepreneur and a senior leader is one wears a bow tie, and one wears tie dye." –.@dtk
"We've got to become aware of the environment that we're swimming in." –.@dtk
"When we're doing something in our business that just feels flat, there's a reason… it's not aligned with our values." –.@dtk
"Live out loud, stop living inside your head." –.@dtk
"As we change our lens, we change our world, and language." –.@dtk
Biography
David Taylor-Klaus reintroduces successful entrepreneurs and senior executives to their families. Through coaching, David's clients create the kind of life rhythm that enables them to build profitable businesses, raise thriving families, and live wildly fulfilling lives.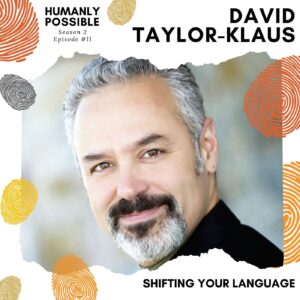 After three-decade as a successful serial entrepreneur, David is recognized for combining candor, intelligence, and humor with masterful coaching. He challenges leaders and their teams to reach their highest levels of performance in their professional and personal lives.
Driven by a passion for growth and creativity, David's personal and professional worlds clearly reflect a journey in pursuit of excellence, always with a great deal of humor and heart. Recent empty-nesters, David and his wife live in the heart of Atlanta with their dogs.
His best-selling new book "Mindset Mondays with DTK: 52 Ways to REWIRE Your Thinking and Transform Your Life" is available on Amazon worldwide
Resources
David's Website Links
David's Social Media Links
P.S. – If you enjoy the show, please rate it on iTunes and write a brief (one sentence) review. Reviews help more people like you to discover the show!
Check out other shows here at Humanly Possible
Transcript
Summary Keywords
language, connection, entrepreneurs, executives, values, environment, coaching
Speakers
David Taylor-Klaus, Bryan Kramer