BRAD DAVIS
In This Episode
Meeting the Dalai Lama, and the shift that followed
The importance of the pause
Moving to California on a leap of faith
Creating value by tapping into the time and emotion of a tribe
The greatest lesson learned from failure
Quotations From This Episode
"I'm going to stop listening to the voices of doubt inside." — .@BradDavisCMO  
"There's never been a better opportunity to create joy in people's lives." — .@BradDavisCMO   
"We're all just seeking human connection." — .@BradDavisCMO   
"Show up with a great attitude." — .@BradDavisCMO   
"Tell truth with empathy." — .@BradDavisCMO
Biography
Brad Davis is Co-Founder, CMO, and President of Consumer Direct at Omnidian where he's helping lead a team focused on protecting and accelerating investments in solar energy across the U.S. Omnidian has been named among the Top 100 Places To Work by Seattle Business Magazine for 3 consecutive years.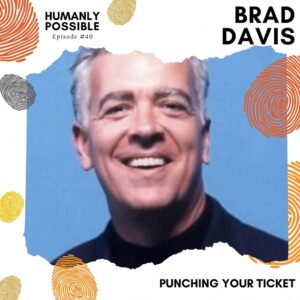 He has a doctorate in law and a track record for building high-growth brands and award-winning communication strategies. He was named one of the top 50 Marketers in America (Ad Age).
Brad has served in executive leadership positions for national brands in retail, financial services, and renewable energy successfully launching new markets both nationally and internationally.
Brad's Awards and Team Recognition include:
Keynote, World Retail Congress, Dubai, 2016
North America CMO Council, Advisory Board, 2015 – present
Featured, 2016 book, "It's Not About Us, It's All About Them," perspectives from global marketing leaders on value creation
Interviewed, U.K.'s Campaign magazine, 2015, On Being Effective and Efficient
Chairman of the Board, Retail Advertising & Marketing Association, 2004-2006
Retail Advertising Hall of Fame, Chicago, Illinois, inducted 2004
CMO of the Year, U.S. Banker, November 2003
Effie, American Marketing Association (New York Market Entry), 2003
BrandWeek cover. for leadership in helping reconstruct the billion dollar consumer banking ad sector, 2002
Resources
Brad's Website Links
Brad's Social Media Links
P.S. – If you enjoy the show, please rate it on iTunes and write a brief (one sentence) review. Reviews help more people like you to discover the show!
Check out other shows here at Humanly Possible
Transcript
Summary Keywords
authenticity, faith, journey, value, leadership, inspire, truth, empathy
Speakers
Brad Davis, Bryan Kramer