Tons of information flock our everyday lives and if we are not careful, it could eat us alive. Flipboard is a free app with the mission of putting together facts, news, updates and social connections all in one place so that individuals are able to maximize their use in relation to smart decision-making.
As you use Flipboard more, you can go from a simple news reader to someone who is intimately connected to the world and able to share with other people's passions, interests, and perspectives. And so, what you get is a customizable platform that helps you create and control your very own world of deep, expert knowledge and well-informed choices packaged only for you by Flipboard.
Applying this strong influence to marketing likewise provides your organization or company a strategic tool that nurtures a personalized relationship with customers.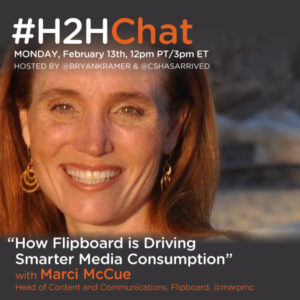 Marci McCue represents the company, Flipboard as a member of the founding team. She led Flipboard's communications and content strategy since the personal magazine's launching last July 2010. She is responsible for revolutionizing the company into a world-recognized brand that has garnered accolades from leading global organizations and publications. Prior to Flipboard, she worked as a corporate communications executive at Tellme Networks, a voice interaction services company, and continued to work in the new Tellme division after it was acquired by Microsoft in 2007. In August of 1997, she worked with Excite@Home in charge of Public Relations/Communications.
In This Episode
How Flipboard is changing the way people access and get connected with things they care about the most
How to get started and customize it according to your many and varied interests, hobbies, and career using Flipboard's smart magazine technology
How to use Flipboard as an effective marketing and communication tool by reaching out to customers in a more personalized manner
How to control the information feed that reaches you in terms of what is real vs. fake, hate speech, and spammy.
The delicate process of Flipboard's content curation and what lies ahead
How to use Flipboard for sales and marketing, for your website or blog, and as a collaboration tool.
Quotes From This Episode
"Use Flipboard to keep up on the things you love, connect to people who also share those passions, and you'll see more great content…" – Marci McCue
"..But the real exciting stuff when we become an intricate part of your life is when you start sharing on Flipboard and you've made it a place of expression."
– Marci McCue
"…why would I use it [Flipboard] is because it gives you a good control over what you consume and the ability to focus your interests." – Marci McCue
"If it's intention is to deceive the reader, then we downgrade it." – Marci McCue
[Tweet ""If it's intention is to deceive the reader, then we downgrade it." – @marpmc"]
"So you have to really think about curation as more of point of expression now" – Marci McCue
"If you just start sharing into Flipboard magazine, it's persistent, you never lose it and it allows you to organize things according to the person who's receiving it." – Marci McCue
"To use it for sales…one of the most powerful things is, just show a client what their Twitter feed looks like on Flipboard…what story your telling" – Marci McCue
Resources
LinkedIn: Marci Pedrazzi McCue
Flipboard: https://flipboard.com/@marci
Flipboard Inc.: